Our history
The EPISOL association was born in 2014 from the meeting between Secours Catholique, the Protestant Diaconate and the Grenoble CCAS, sharing the observation that food distribution systems did not meet new emerging needs, especially for a working poor audience.
On this basis, these three founding members, joined by La Remise, imagined an original concept of solidarity grocery store, proximity store welcoming all public in mixed with a differentiated pricing system according to the income of each, promoting the involvement of each. and the creation of social ties.
Since its creation, EPISOL has developed and currently manages 3 systems :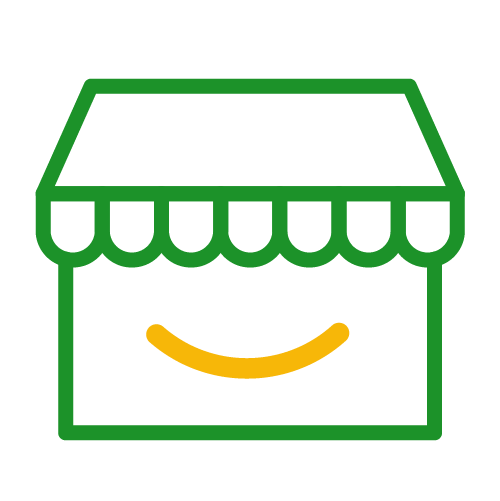 The solidarity grocery store located rue du Général Ferrié in Grenoble.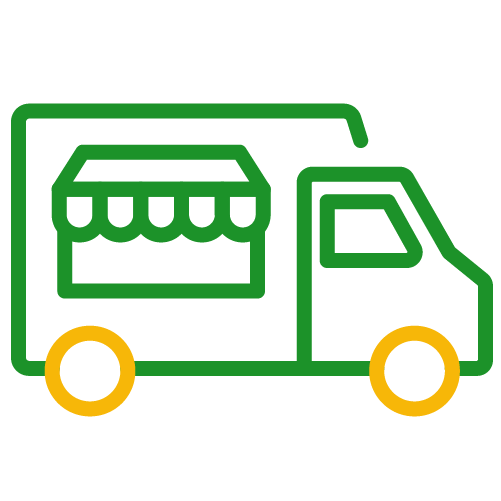 The Mobile, a supportive and mobile grocery store, which goes to various places in Grenoble and the Metro.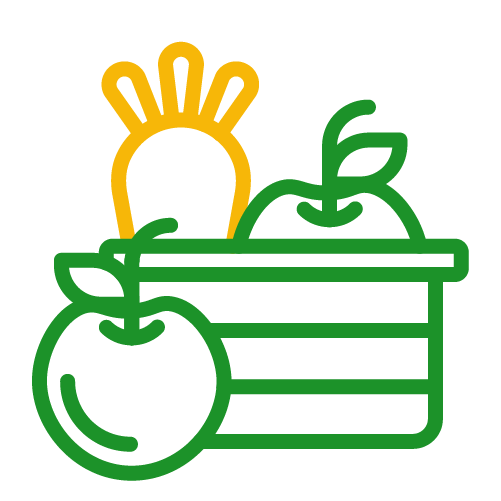 Solidarity baskets, distributed every week in Grenoble.
Our values and goals
Through its various activities, EPISOL's mission is to :
Provide everyone with access to quality food products, at prices modulated according to the family's financial capacity and in an appropriate framework. Promote healthy eating behavior
Support the local economy by developing short and local supply circuits
Promote social diversity allowing citizens to "live together" by including users in the operation of the grocery store
Participate in the fight against unemployment through economic activity and job creation for people in difficulty
Fight against food waste by collecting and revaluing unsold food
In all of its activities, EPISOL wishes to implement the following fundamental values :
Ecological awareness and solidarity
Sharing and conviviality
Commitment and freedom everyone's involvement
Dignity with respect for others and for oneself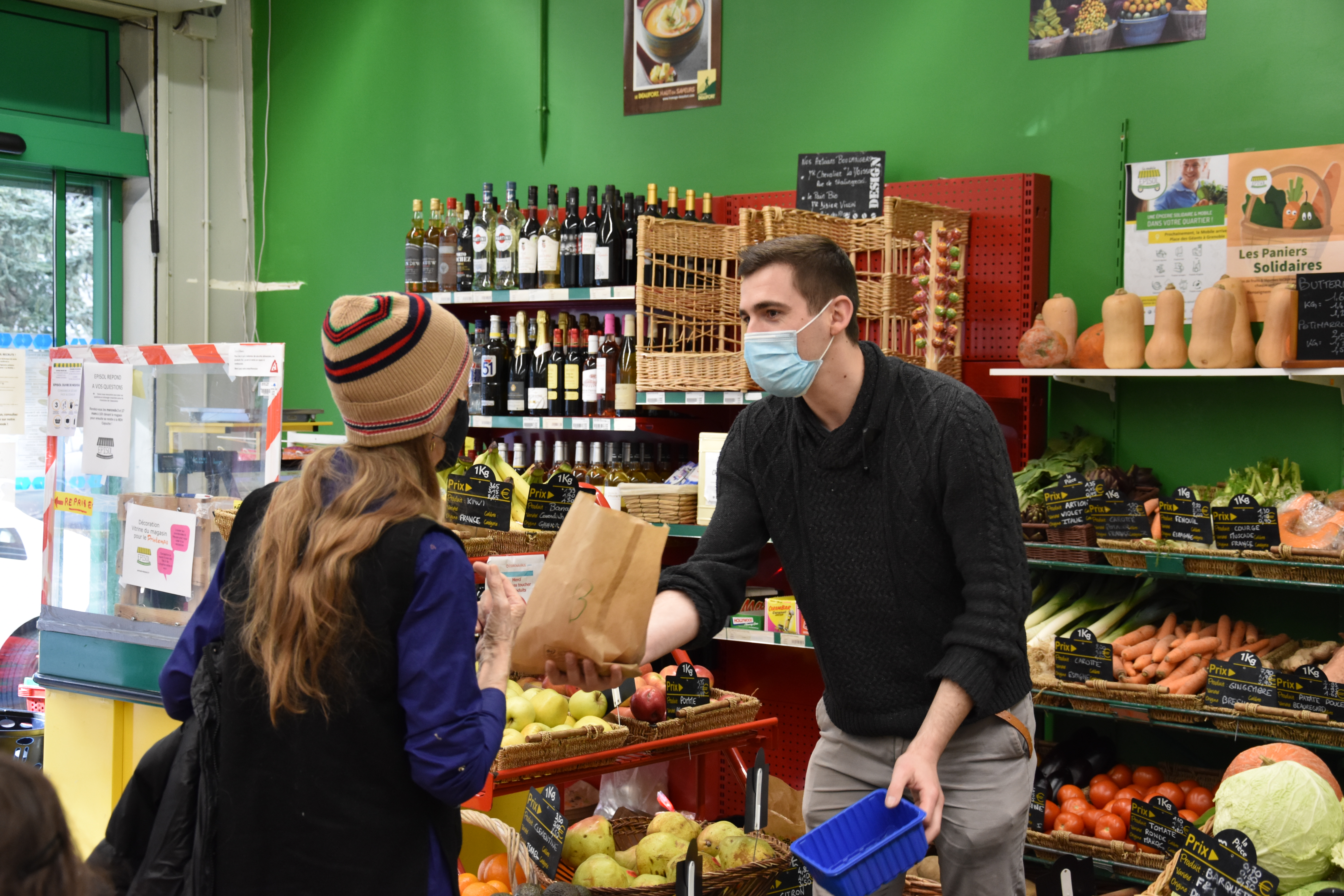 Our operation
All EPISOL systems are open to all and supportive: customers are welcomed and tariffs modulated according to their income are applied with a view to solidarity.
To benefit from it, you must join the EPISOL association, but access to the store and to La Mobile are open to people who are not members, whatever their resources or their communities, as in a traditional store.
Membership is materialized by a card with a bar code which is issued upon payment of the membership fee set at € 5 per year. This card provides information on the pricing to which the person is entitled, according to their income. It is presented at checkout, and the seller applies the appropriate price discreetly after reading the code by an appropriate reader. Differential pricing thus makes it possible to increase the food purchasing power of assisted users.
We also offer associations and communities that work with people in great precariousness the possibility of accessing our solidarity checks. This prepaid coupon system allows beneficiaries to make their purchases (excluding alcohol) in the store and on their mobile devices.
Our team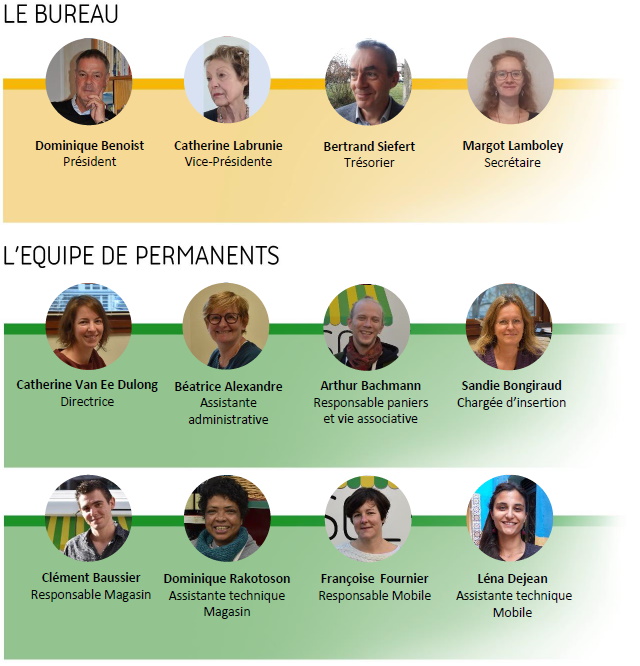 The EPISOL team are also interns and volunteers in civic services who join us each year as well as sales assistants in integration: 6 positions are dedicated to the store and 1 position is dedicated to the mobile grocery store.
Our associative life
EPISOL attaches great importance to its associative life and the desire for the involvement of the greatest number of its members in all of its activities, in order to promote mutual aid, meetings and thus weave solidarity !
This voluntary commitment can take many forms, both in the field and in places of reflection and decision-making; all these dimensions being essential for the functioning of our association. We regularly offer welcome and information times, friendly meetings and training so that everyone can find their place.
Finally, the General Assembly is THE annual meeting where all the members of the association come together to jointly decide on the main directions for the future.
Today, 80 active volunteers are involved on a daily basis to keep EPISOL alive. Do you want to join the adventure ? Don't hesitate to become a volunteer.